Taste from Home
I'll preface this post with a note that Frito Lay is holding The Tastes from Home with Frito-Lay recipe contest and is offering specific bloggers who blog about their regional Lays flavors a surprise gift and a gift package to give away to their fans. I've always been a Frito Lays fanatic, so I figured what the heck.
Since moving out to Denver one of the things I will miss about Ohio is the chili. I haven't seen a chili place yet, but I haven't explored the city too much either. The closest I will probably come is the Skyline Chili in the freezer section at my local grocery store. Every family get together one of my family members would make Skyline Chili dip. Making that is the closest I will come to the flavors of growing up in Cincinnati.
To make the dip is pretty simple and only requires 3 ingredients, a microwave and a bowl. You take a

package of frozen Skyline Chili without the spaghetti, cook it in a microwave as the box says and then spread it in bowl or dish. Then you add a layer of softened cream cheese (probably just one stick of it), and then you add a layer of Mild Cheddar cheese or whatever type of cheese you like that will melt on top. (I'm partial to a mix of cheeses, and I'm guessing it would total about about a cup to two cups of cheese.) Enough cheese to cover the lower layer but still allow you to see the other ingredients. Then wait a minute for the cheese to melt or throw it back in the microwave for a minute if needed to melt the cheese some. Serve it with some Frito Scoops or other chips. It's a great snack but I'd be willing to try it as a breakfast, lunch, dinner and desert combo.
I don't know what inspired it. I don't even think it was necessarily an original to the family. I've seen similar recipes on other websites, but we've been having it for years at family get togethers. And it just doesn't seem like a family get together without it. It is always gone by the end of the night even though there is usually some leftover cake or other treats.
Of course for me growing up in Cincy, I was always a Frito's fan. I used to put Frito's on my barbeque beef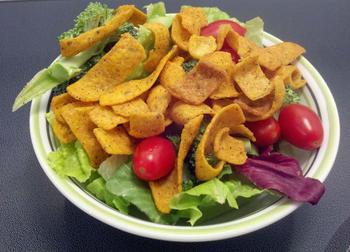 sandwiches as a kid. Or I'd add some potato chips to my peanut butter and jelly sandwich for that extra crunch. I started adding Frito's to my salads a few years ago. They give it that extra kick that croutons just don't do. I highly recommend the lower salted Frito's for this. I've tried all sorts. Recently I had a salad with Chili Cheese Frito's on it. It was delicious. I think even one of the regional flavor Lays potato chips might be an interesting addition to a simple salad. It would give it that extra flavor kick and you could crush them up a bit and sprinkle them on top.
Actually the salad with Frito's on it reminds me of my college years. I think that may have been when I first tried it out. I've experimented a lot with food over the years. I once had a rather bad outcome in college when I didn't know how hot a Habanero Pepper was. I cooked three or four with an onion and a nice steak thinking I was trying something new. I ate that steak and I think I must have drank half the city's water supply with it.
I've thought of trying a recipe that uses gummy bears, Lays potato chips, Frito's, chocolate chips, M&M's, peanuts, cashews, and crushed up Oreo's. You basically take the different items and alternate layers in whatever order you want in a glass jar. It is a sort of sweet and salty mix. Adding a regional Lays flavor chip might give that mix a little extra kick.
Since moving out to Denver I've been wanting to try the regional flavor chip out here. Lays Garden & Tomato flavored chips are regional to Ohio and some states West of it. I have always preferred the spicy side of food so I didn't try the Garden & Tomato flavor. I haven't had a chance yet to try the Chipotle Ranch flavored chips that are for the Denver market, and I think I'd love to taste the Tangy Carolina BBQ or Cajun Herb & Spice flavors that are in the Carolinas and South-Eastern region of the country.

Northeastern U.S. - Lay's Honey Mustard
Midwestern U.S. - Lay's Creamy Garden Ranch
Northwestern U.S. - Lay's Balsamic Sweet Onion
Southwestern U.S. - Lay's Chipotle Ranch
Southeastern U.S. - Lay's Cajun Herb & Spice
Do you have any recipes that remind you of home or a time in your life? Perhaps something you like to make yourself on special occasions? Or perhaps have you tried something new with Frito Lays?